At the end of last year I visited Belfast with the Guild of Food Writers. You can read about here. It was a trip that left a deep impression, by the outstanding quality of ingredients and produce coming from the local area, the superb places to eat and the warmth and kindness of the people I met.
This visit left me with a taste for more, and I recently returned for a longer trip, to dig beneath the surface, and discover the gastronomic delights of Londonderry and County Antrim.
There are a number of ways of getting to Northern Ireland – by plane to Belfast or Londonderry, or by ferry, to Larne, most likely. My first stop was Londonderry in the North West, situated on the River Foyle, and just 5 miles away from the border with County Donegall. The drive over from Belfast took around an hour and a half, up over the snow topped Sperrin mountains, which is a great drive.
Londonderry is a most interesting city. A walk around the city walls is an essential part of a visit, taking you high up around the city, able to take in panoramic views across both sides of the city.
The food scene is small in Londonderry, but there are some very good things going on here. I think the best lunch in town is from Pyke n Pommes, a food truck situated on the river Foyle, run by enthusiastic foodie Kevin Pyke. A converted truck is home to this small but thriving food business, where Kevin and his team cook a creative range of street food dishes, freshly made and served hot, with a smile, from the truck every day. What makes this particularly special is the sourcing of the ingredients used, with all produce coming from well-within a 15 mile radius, including locally reared Wagyu beef. We enjoyed a steaming hot lunch on a cold day of braised wagyu sirloin, served with perfectly cooked local vegetables and creamy mashed potatoes. Watch this space – this is an exciting year ahead for this small business.
For dinner, we visited Browns on the Waterside. There are a couple of Browns restaurants in Londonderry, which seems to be another thriving local business.
Browns was a brilliant choice for dinner. It is clearly a local favourite and it was packed out with people coming here for a special meal and having a great time with friends and family. It had such a jolly feel for a restaurant of its calibre, and it was a really great experience to visit a restaurant with such a warm and genuine celebratory feel. The food was excellent, with many ingredients locally sourced and beautifully cooked. Browns manages to fill a much-needed space – not fine dining but superb cooking, beautifully presented and served in a smart, but friendly and unintimidating environment for a fair price. Head Chef Ian Orr is a talented man, creating some seriously good, well-sourced dishes.
We stayed a couple of miles out of Londonderry at Beech Hill Country House Hotel which has hosted many world famous stars and politicians over the years. The hotel is very comfortable and the Reception staff are extremely helpful and friendly. The best tip for keen foodies is to skip breakfast and head into town. The Legenderry Warehouse No 1 is excellent, with local Bailies Coffee served, and a wide range of delicious locally sourced homemade treats for breakfast. It's a really good find.
Londonderry is a great place to start a tour of Northern Ireland's Coastal Route, which is widely recognised as one of the best drives in the world and really is a must if you are in the area for a couple of days. Three hours will give you enough time to complete the drive, although it's a great idea to allow a day or even more to take it all in.
There are so many superb places to stop along the Coastal Route, including Dunluce Castle, Carrick-a-Rede Rope Bridge, Rathlin Island, Glenarm Castle and more.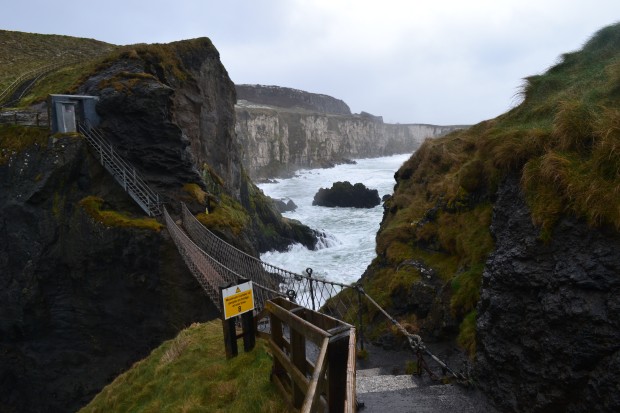 To break the journey, I stopped at Harry's Shack at Portstewart for lunch. This is a small, newly opened restaurant set in a newly build wood and glass building on the edge of the beach, which is owned by the National Trust. Far from a traditional Trust restaurant, this is one of the most exciting openings of late in Northern Ireland, and indeed, the UK. Donal Doherty and Derek Creag, the team behind Harry's Shack, serve up some seriously well-executed cooking using great quality produce and fantastic ingredients. Allergy suffers are very well catered for with plenty of choice on the menu.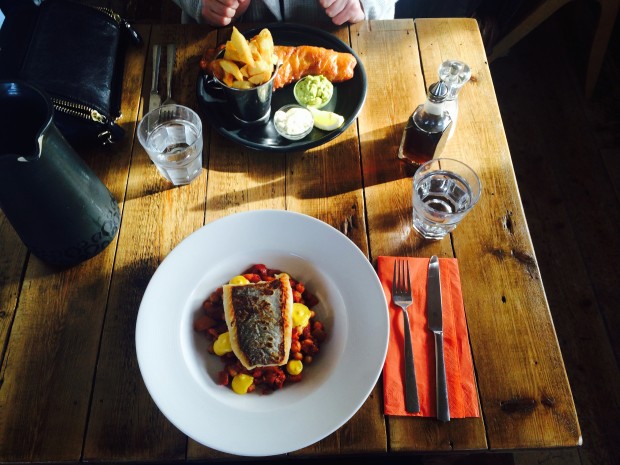 Tap water was brought to our table when we arrived, without prompting, in a beautiful jug from local Moville Pottery. In fact, almost all of the tableware used in Harry's Shack is indeed from there, and very beautiful too. It may seem unusual to mention the plates before the food, but to me this underpins how much thought and care has been put into every little detail of the business, and that, is a very good thing. Returning to the food, well, it was all superb. I started with a cone of whitebait, which were served piping hot, crisp and perfectly seasoned. Paired with a small dish of superbly balanced Marie Rose sauce, it was an excellent start to the meal. My guest chose a pork and pistachio terrine which was very good, too. Chunky pieces of meat, studded with pistachios and a delicious chutney served on the side made it a most satisfying starter.
For the main course, I had to try the fish and chips, which felt like the natural choice given our location. Every element was executed with skill; crispy, crunchy chips with a fluffy interior, juicy, flaky fish encased in golden, crunchy batter, and a dish of homemade mushy peas on the side. Pretty much perfection. The other main we chose was a gorgeous fish stew, made with hake, chickpeas, tomatoes and a saffron yoghurt to top. It was scrumptious, and made for a truly nourishing and satisfying lunch, tasting great and made even better in the knowledge you were eating a bowl full of delicious goodness. Sadly, we were too full for pudding which was the only disappointment of the lunch. A Bailies coffee set us up for the journey ahead and we continued on our journey.
Our next stop of the day was our final stop. Giant's Causeway. One of the Wonders of the World, this extraordinary basalt rock formation is really worth seeing. The site is operated by the National Trust and entry is around £10-15 depending on the type of ticket you require, and of course free for members. The weather changes so dramatically on the Antrim coast and so a visit can mean you will see the Causeway in a number of different light conditions, from glorious sunlight to moody, stormy conditions are all possible within the hour as we found, with a little snow thrown in too, so be sure to take your camera to capture the sensational views. Those fancying a bit more of a walk can follow some longer trails, and those unable to walk far can take the minibus provided down to the stones for a £1 a way.
We made a night of it, and stayed at the Causeway Hotel which is right next to the visitor centre and set high up on the cliff tops with really lovely views. Owned and operated by the Trust again, it is a simple but very cosy recently refurbished hotel that is extremely warm and welcoming, yet relaxed – I didn't feel uncomfortable presenting myself at Reception on arrival having been soaked through to the skin in an unexpected hailstorm. There is a restaurant on site, and bar meals are available in the cosy, relaxed bar area, with roaring log fires. The food is not bad – dinner is more pub-style fare – but served by highly trained, very friendly and professional staff. Breakfast is very good, and the smoked salmon and scrambed eggs is recommended. This is a convenient and comfortable base to make the most of the Causeway, and we couldn't resist popping down for another quick look in the morning before we departed.
Next stop, is Carrick-a-Rede rope bridge, which is a Victorian rope bridge, erected by salmon fishermen in search of the best fish they could possibly catch. Quite a feat indeed, and worth a short diversion from the coastal route to see, and indeed cross.
Bushmills is a town just a few miles away and home to the famous Bushmills Whiskey distillery. They run a number of tastings and tours and are a must for whiskey lovers in the area.
The drive from here back to Belfast takes you along the dramatic, rugged and beautiful coastline, running just a dozen miles or so as the crow flies from the Scottish Islands. It takes you up high over the hills, down over towering viaducts and round many twists and turns. Even at a leisurely pace, you are no more than two hours from Belfast, which is a great place to spend a few days either at the start or end of a trip. As I covered so much in my second visit to Belfast, I decided it deserves its own post, which you can find here.
Getting there
We flew from into Belfast City airport with Flybe, which run regular return services from a number of UK destinations. Our return flights from Southampton were around £150 each for a return Economy Class ticket.
Our car was hired from Enterprise in Belfast City Centre. They offer a free pick up and drop off service and deserve to be commended for their super friendly service. Car hire for over 25s for a small car is around £50 a day, and there is an option to add an additional no-claims waiver onto your rental charge, which we selected.
Taxis to and from Belfast city centre to Belfast City George Best Airport are only around £7-10 a way if there is no traffic, and should take around 15 minutes. Belfast International airport is further away, around 30 minutes drive.
Thank you to Northern Ireland Tourist Board for inviting me over and making all arrangements for me.