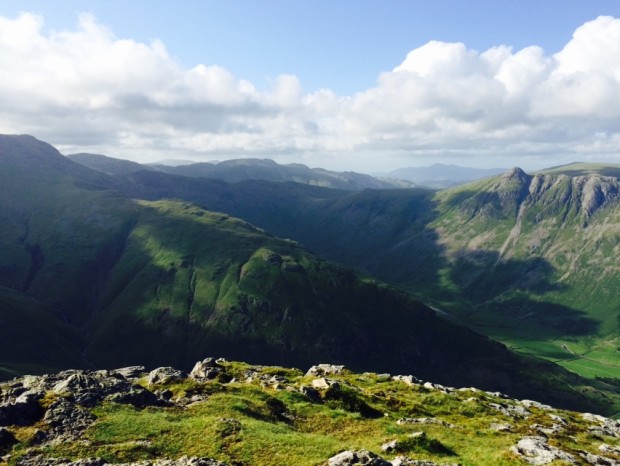 The English Lakes remain one of the most popular UK destinations, and simply a wonderful place to visit all year around, never failing to delight and inspire.
There is always something new to discover in the Lakes, and so we headed up to Cumbria recently to get away from it all, explore and enjoy the awe-inspiring scenery and some truly delicious food.
Where to stay
Askham Hall is a Grade I-listed home dating back to the 14th century situated on the far northeastern edge of the Lakes, near Penrith. Used as a private residence by the Lowther family since the 1830s, it has recently been converted into a characterful small boutique hotel with a restaurant. This is a grand castle on the outside, with a very homely feel on the inside. It makes an exceptionally memorable place to visit, situated in large, private gardens.
Askham Hall's sister establishment is the George and Dragon in Clifton, just a few miles away, which was our base for this trip. Also recently converted, it's an upmarket country estate inn, situated at the edge of a small village, with a major road, the A6 running through, with a popular restaurant and tasteful, comfortable rooms upstairs, offering quality B&B accommodation.
We stayed at the George and Dragon, as Askham Hall was full when we visited. The George and Dragon was a comfortable base for our stay. Rooms are tastefully decorated and we had a small bedroom with a very large bathroom with an excellent shower and lovely Bramley toiletries, which are made in the UK. The bedroom was small, but very comfortable and warm and nicely furnished. It is situated on an A road, but there wasn't much traffic noise at night, even with the window open. Its location makes it a popular and convenient stop off for anyone heading from Scotland to England or vice versa, as well as visitors to the Lakes. Breakfast at the George and Dragon is very nice. The cooked options are excellent, with lovely local sausages, delicious eggs and giant flat mushrooms on offer. There is lovely thick yoghurt and good orange juice on the menu, too. Service is very nice, and it is a very civilized start to the day. This is a great place to stay and an excellent, comfortable yet unfussy base from which to explore the Lakes. Next time, I will try Askham Hall, and hope they can fit me in!
Where to eat
The Lake District's natural larder is rich and plentiful, and so I like to try as much local produce as I can when I am in the area. With Askham Hall and the George and Dragon being renowned for their good food, it seemed the obvious choice to eat in both restaurants. Our first meal was at Askham Hall. We arrived for the last sitting on a Saturday night. It was a glorious evening and a beautiful drive down narrow, winding lanes to find the hotel. It is such a small establishment; you really do feel as though you are entering someone's home, which is part of the charm of a visit. We were greeted extremely warmly by Nico Chièze, the House Manager, and shown to a sitting room, where we had a chance to look through the menus with a perfectly chilled glass of champagne and some scrumptious nibbles. Nico returned to take us through to our table when it was time to eat, which was in a separate area of the building. It's a small dining room adjacent to the semi-open kitchen, seating around 20 people, which is elegantly decorated and sat on the edge of the garden. It is such a gorgeous room in which to spend an evening, and you practically feel as though you are outside, with huge glass windows running from ceiling to floor.
There is the choice between a three course and a five course meal, with coffee taken in the drawing room afterwards included. We opted for the five course menu, as there were so many dishes on the menu that appealed, it was hard to choose.
Much of the fresh produce on the menu is grown in the gardens on-site, and what can't be produced there, is sourced locally.
I can honestly say it was one of the best meals I have had in a very long time. Chef Richard Swale is Cumbria born and bred and having worked in London and Paris under Anthony Demetre and Marc Veyrat to name a few, he has honed his skills and returned to Cumbria to work with the sensational local produce and create something really special.
Richard's food is exquisite, both in flavour, skill and appearance, but what I loved most was the clean, pure flavours, the superb provenance and freshness of ingredients, and the lack of pretention. This is amazing food cooked with supreme skill and expertise, but without any of the old-fashioned, excessively rich approach that one so often finds at a fine dining restaurant. This is truly exciting, sensational, utterly delicious food that is truly memorable. The service is a joy, too. Knowledgeable, friendly, unpretentious and charming, and I urge you to visit.
The George and Dragon's restaurant was our destination for the second evening. After a long and tiring, but fun day outdoors, it was really lovely to be able to walk downstairs for dinner, and not have to worry about driving.
With a focus on local produce, the restaurant offers very good gastro-pub food. There is a large menu offering lots of meat and fish options. We really enjoyed our meal here; it is a exactly the sort of food you want for a nice meal after a day outdoors. The food is very good, the atmosphere is comfortable yet relaxed and the service is absolutely lovely, but informal. Standout dishes include the scallop starter with pea purée, pancetta and local black pudding, and for the main, the steak, which is reared on the estate and hung for at least 28 days, if not longer. The wine list is most interesting, with a number of bottles coming from the family cellar, offering a fantastic opportunity to try some excellent wine at a highly competitive price.
What to do
The Lake District is a dream for anyone looking to enjoy the great outdoors. There are countless breathtaking walks, cycle rides and climbs to tackle, but this time, we decided to see the Lakes from a different perspective: by car. Kankku is the Lake District's off-road specialist, offering driving experiences throughout the National Park. There are a number of options available at Kankku for short and long trips, to drive yourself, or be driven, to take your own 4×4 or theirs, to tackle adventurous terrain in a specially adapted 4×4 or to take a more gentle adventure in a WW2 Land Rover.
There are options for families and groups, too, but we decided to take a 4×4 on the toughest drive available, and with just the two of us, we would share the driving. This was the Expedition trip, which was a 5 hour guided drive, taking us up to the highest point in the Lakes which is accessible by car.
The day started early, and the weather was poor first thing, with us driving through the clouds to get to the Kankku offices in Windermere, where all trips start from. That's the brilliant thing about Kankku – you can have a fantastic adventure outdoors, even when the weather isn't great. Fortunately, it picked up as we drove out towards Grizedale to start our adventure, taking the car ferry across Lake Windermere. The trip starts promptly, with cars heading out on convoy to the ferry. We started off in a Land Rover Defender, which was driven by instructor Jess, with us on board, followed by another party in a Mitsubishi Pajero. An instructor always goes out on the more challenging terrain, to guide you along, and you can have up to 5 cars in convoy.
We started a challenging climb up through Grizedale along a green lane track, which took us up over huge, jagged slabs of bedrock, made more challenging by the wet weather. This was an exhilarating start to the drive and seriously challenging. We carried on climbing over the next couple of hours, interspersed with short flat sections, either on tracks or road to get to the next section of the route. Jess, our guide used a radio to communicate between the cars, to ensure we all followed the correct lines and techniques to negotiate the terrain.
When we reached the top, we got out and enjoyed the views, which were just sensational. Jess phoned ahead to a local pub to order us lunch, and we headed off there, for a quick pit stop. After lunch, we took a drive through Langdale, which was lovely, negotiating some seriously challenging rocks, narrow tracks and tiny bridges, before heading back through the forest to Windermere.
It was a totally brilliant day. Intense, challenging, and totally exhilarating. But what we loved most of all, was that we were taught how to drive a 4×4 properly. A Kankku experience does not involve tearing carelessly though the countryside at high speed. One learns how to control the car and to use the 4×4 settings properly, which you wouldn't know how to do unless you are taught, and then how best to tackle the lanes and off road tracks without damaging your vehicle, stranding yourself, or damaging the environment. It was a brilliant day out, one I can't recommend highly enough, and even better, thanks to the excellent guidance and tuition received, you learn a new skill, too.
Ullswater is a short drive from Askham Hall and The George and Dragon. This is such a picturesque and tranquil lake, it really is worth visiting. The surroundings are epically beautiful and it is a particularly unspoilt and underdeveloped part of the Lakes, making it feel particularly special. Take the Ullswater Steamer boat on a ride across the lake to see it from a completely different perspective.
Whilst you're there, a trip to Aira Force is essential. Owned by the National Trust, it is a truly magical 65ft waterfall nestled in a particularly secluded haven. There is a steep but safe climb up to the top of the waterfall, where one can cross a Victorian bridge and watch the waterfall from above, which is an enchanting experience. There are plenty of gorgeous spots for a picnic on site too, making it a lovely trip for all the family to enjoy.
Yet again, the Lake District proved itself to be the perfect destination for a long weekend. The surroundings always delight, there are new adventures to be had, and there is always somewhere gorgeous to stay and delicious food to enjoy. I can't recommend a trip highly enough.
Thank you to Go Lakes for organising my wonderful itinerary and to Askham Hall, the George & Dragon and Kankku for looking after us so well.