You don't need me to tell you that Italy is one of the great culinary destinations in the world, but it is worth reiterating that there isn't really such a thing as Italian food. Italy is a country made up of geographically diverse regions and as such, the food varies enormously from region to region, with ingredients dictated by the climate and landscape.
Tuscany is a region I've wanted to visit for a long time – located in the northern half of Italy, mostly occupying a central area of the country. There is a small amount of coastline in the Tuscan region, which includes Pisa and Livorno as its main towns, but otherwise, the region is based inland with undulating hills and poor quality soil, which lends itself very well to growing grapes and olives.
Tuscany is famous for its wine and olives, but also its use of other ingredients, such as boar, hare, duck and venison on the meat front, and also chestnuts and chickpeas, which are often milled into flour. Pork products also feature heavily on the menu, with sausages, and all sorts of salami and porchetta widely enjoyed.
Having spent a week eating my way around the region, I bring to you a selection of my top recommendations for a visit to Tuscany.
What to try
If you are a meat eater, a meat stew is a must. Try either a ragù, which may be made from boar, hare, duck or venison stirred through thick pasta such as pappardelle, or as a stew, served more often than not with polenta. Tuscan salamis and cured meats are especially good. Casa Porciatti is a Tuscan institution and an absolute must for anyone visiting the Chianti region. Their salame toscano, porchetta, fresh sausages and soprassata are all must try ingredients. Lardo is widely available in Tuscany – both homemade and from Colonnata – so this is a good opportunity to try it if you are curious. Ceci is a savoury Tuscan chickpea cake is really interesting – do try it if you can. And if you're in Livorno, you can buy it in a sandwich, which is very, very good. Then, of course, there are a huge variety of olive oils and wines produced in the region. There are hundreds of producers throughout the region.
I visited Pruneti, a top-quality olive oil producer situated just south of Florence. They produce superb quality olive oil using a traditional pressing methods that preserve the best qualities of the olives. Their single varietal olive oils are sold in the best stores in Italy.
Interested to learn more about Chianti Classico – the wine of the region, I visited la Casanova di Ama vineyard in the heart of the Chianti region to help with the grape harvest and learn more about the wine they make. Their grape harvest is a true family affair. Visitors can come along to the vineyard for lunch and a wine tasting, which is a great opportunity to learn more about small-scale wine making in Chianti.
Cooking
If, like me, you find yourself a little unsettled after a few days away from the kitchen, you might want to consider self-catering. My base for the week was La Casanova, a cottage set on a hillside with commanding views across vineyards on the edge of Radda in Chianti – a small but interesting historic town.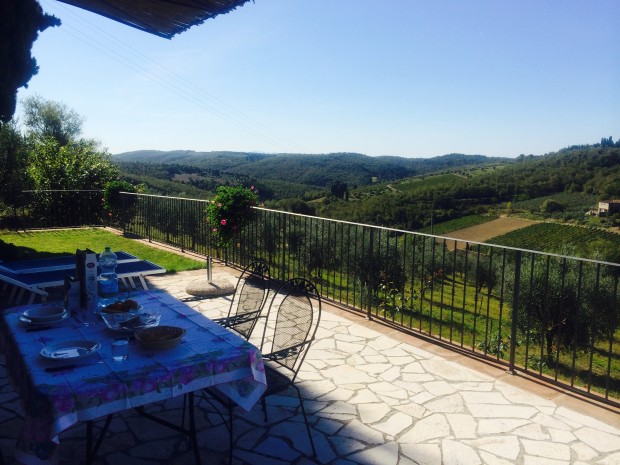 La Casanova is a cottage operated by To Tuscany, a small, local property rental company who offer excellent quality villas in the region. The villa provided a clean, comfortable and easy home from home for the week.
For keen cooks or anyone looking to learn more about Tuscan food, a visit to Jul's Kitchen is very highly recommended. Giulia Scarpaleggia is a Tuscan food writer and blogger, who specializes in cooking and writing about Tuscan food. Juls runs small, personalized classes in her Tuscan kitchen which give visitors the opportunity to learn more about the ingredients of the region and to try and taste so many delicious local foods. The class starts with a visit to the market to source delicious ingredients to cook with and finishes with a sit down lunch with wine in Juls' home.
Gluten free
Italy is a great country to travel in if you're gluten free. Italians just get it – even if you know no Italian, you should be fine – just remember to say 'senza glutini' if you are unsure.
Pretty much every restaurant will cook their sauces without flour so they are gluten free, and generally gluten free penne or spaghetti is offered, which is served with your choice of sauce. The only things they don't really do are gluten free filled pastas such as ravioli, gnocchi and fresh pastas. Gluten free bread or crackers is often available, as are gluten free desserts. Many restaurants offer dairy free options – some even have a naturally gluten free menu.
Where to eat
Florence is a very expensive city and eating out can be a pricy affair. Try lunch or a snack the Florentine way: with a panino from Lampredotto, made from fresh, crispy toasted bread, melting cheese and delicious meats.
If you're around first thing in the morning, try a trip to Chiaroscuro for a coffee and a pastry. Mornings are a great time to wander through the city before the crowds descend. The aroma of freshly baked breads and pastries pervades the streets, and this is the place to stop and soak it all in.
Food lovers will find many things of interest at the Mercato Central (central food market). There are some truly beautiful stalls in this indoor market selling some really lovely Tuscan produce. You'll find plenty of places to buy a meal here too, as well as somewhere to sit and enjoy it.
Vivoli gelato near Piazza Santa Croce is reputed to sell the best gelato in Italy. Whether that is the case or not is another matter, but their chocolate and hazelnut ice creams are truly excellent. It may seem a bit of an unpromising location to get there, but it is easy to find, and a very short walk from the hustle and bustle.
Antica Macelleria Ceccini in Panzano in Chianti is probably one of the most crazy places I've ever eaten. At first, it appears to be a beautiful butcher's shop, offering wine, Tuscan bread and salami to everyone who walks in the door and blasting ACDC on the speakers. But ask behind the counter, and you can book a table upstairs or out the back to enjoy a delicious, leisurely meal featuring celebrity chef Dario's famous meat products. There are a number of set menus to choose from which are very good value, and other dishes a la carte too, such as bistecca a la Fiorentina. All the food on the menu is delicious and the meat is superb quality. The menu is naturally dairy free, with gluten free choices available.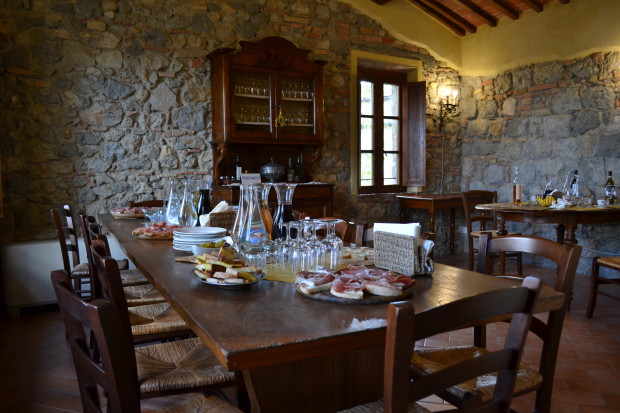 Fattoria San Donato is somewhere anyone wanting to try artisanal Tuscan food should visit. It's just a short drive from San Gimignano (somewhere we didn't manage to find anything good to eat – even the ice cream was bad!). I wouldn't hesitate making a special trip again, or to drive out from San Gimignano just for lunch. The restaurant is situated in a rustic stone building on a farm, and the whole site is still family owned by a delightful couple who really care about artisanal, organic food. Lunch is simply a table of delicious homemade cheeses; cured meets, homegrown spelt salads, their San Giovese grapes and Tuscan bread liberally drizzled in their own olive oil. Paired with their own delicious white and red wines, and Vin Santo and cantucci to finish, it is a truly authentic, delicious lunch – so good I'd almost consider flying back just to have it again.
Exploring the region
There is so much to see and do in Tuscany; it's hard to know where to start. Here are my top places to visit:
Siena – a day will be sufficient to get a feel for it. Very compact and manageable by foot, and the shady side streets are a delight to walk down, stopping to look in some beautiful shops.
Florence – you could easily spend a week here and not see everything. We spent a long day here – 9 hours non-stop walking around and that was a good way to get to know the city in a short space of time. The centre is really beautiful – so many gems in such a compact space. Art and architecture lovers will be in heaven.
Montalcino, Pienza and Montepulciano – all were excellent. The drive through Val d'Orcia is sensational (sadly, it was wet when we visited), but it is highly recommended if you're visiting. It's also where Gladiator was filmed.
The entire Chianti region is just lovely. Radda in Chianti is a gorgeous hill top town. Panzano in Chianti offers some fantastic views and Greve is an interesting market town.
San Gimignano and Volterra were perfectly pleasant, but I wouldn't go back – they were a bit too touristy for my liking.
If you don't want to drive or are looking for some ideas for a visit, I'd highly recommend booking Giorgio Fronimos for the day. Giorgio runs bespoke tours of the region. We found his recommendations to be absolutely spot-on for our interests – he took us to places we probably wouldn't have discovered without him – and being driven around by him is a wonderfully relaxing way to spend the day.
To Tuscany (www.to-tuscany.com; 0121 286 7782), invited me to visit the region as their guest. They offer more than 625 villas in the region. La Casanova, which sleeps two to three people and has a pool, and costs from £714 per week in 2015, villa only. Juls' Kitchen is one of a number of cookery schools recommended by To Tuscany to guests and the Tuscan Country Cooking class I undertook costs €150pp for three hours, including food and wine, final lunch/dinner, an apron and a cookery book. Real Chianti offers tailor made private and group gourmet tours, €100-€150pp (depending on length of tour and number of participants). Wine tasting at Casanova di Ama costs from €25pp.