Skye is the largest island in the Hebrides and also the most visited. With a reputation for its jaw-dropping beauty and superb food and drink, I set off to explore Skye for myself, and as always, to bring you the very best recommendations for things to see and do, and a tried and tasted guide to the foodie scene.
Of all years to visit Scotland, 2015 is a very good year indeed, as it is Scotland's Year of Food and Drink. Aiming to showcase Scotland's sensational larder and celebrate the wonderful things that are happening in food and drink up and down the land.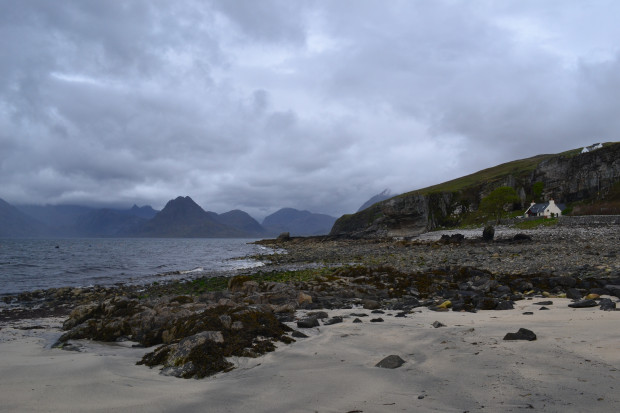 Where to stay
During my trip, I visited two very different places to stay. My first port of call was Canowindra Bed and Breakfast at Penifiler, which is just outside of Portree on the eastern coast of Skye.
Young couple Rick and Georgie have worked in hospitality for a number of years and relocated to Skye a few years ago, built their own home, and have opened it up as a four room B&B. Its description as a luxury B&B is entirely accurate. The house is warm, welcoming, peaceful and very tastefully decorated to an extremely high standard. The rooms are very well equipped with fresh coffee, homemade biscuits, and handmade Skye soap and plenty of Arran Aromatics toiletries. Beds are comfy with memory foam mattresses and pillows and White Company sheets. We had both a walk in rainforest shower and roll top bath in our en-suite. There is a delightful lounge and adjacent breakfast room for guests to use at any time, and breakfast is a real treat. Excellent coffee and juice are served with a choice of delicious fresh fruit salad, granola and yoghurt, followed by a fantastic cooked breakfast. Guests are given a sheet from which they can choose their breakfast items and the time they wish to eat the night before. I enjoyed the smoked haddock with a poached egg, and the smoked salmon with scrambled eggs was delicious. It was a fine start to the day, and there are even tables outside for guests to use when the weather is good, as the views are fabulous. Portree is just a couple of minutes drive away, making Canowindra a superb base from which to explore Skye. It is a faultless place to stay and I recommend it wholeheartedly.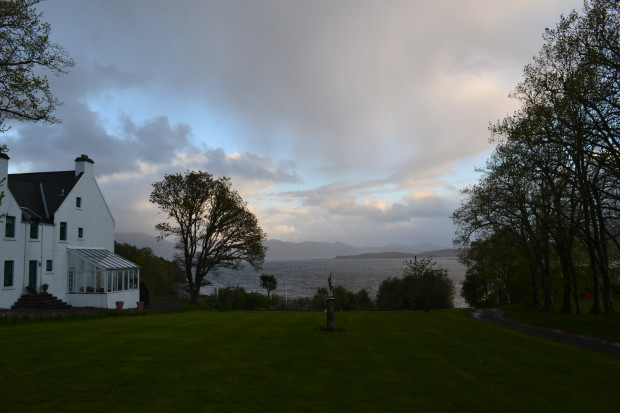 Our next stop was Kinloch Lodge, Skye's most famous hotel, which is home to the first restaurant on Skye to achieve a Michelin star. Kinloch was established by the prolific cookery writer, Lady Claire Macdonald, turning a former Macdonald clan hunting lodge into a hotel and restaurant. It is now run by one of her daughters, Isabella, and her husband. It is a traditional, small independent hotel that prides itself on its food and warm service.
Kinloch Lodge is found on Sleat, the southernmost peninsula on Skye. It is a spectacularly beautiful area, truly magical, and the lodge is tucked away at the top of Loch Na Dal, which is easily accessible from the main road onto Sleat. Many of the rooms and the communal areas offer fantastic views in all directions.
The Hotel buildings include the original hunting lodge, which has been extended and a new, separate building offering more accommodation, just a few steps from the main house. We stayed in a luxury room, which was a large upstairs room, accessed by a metal spiral staircase in the extension on the main house. The room was comfortably furnished, with a seating area, large bathroom and tea and coffee making facilities. Communal areas include a bar-cum-reception, the drawing room and dining room, which are all accessible by a short walk across the car park. Very few rooms are inside the original part of the house.
The drawing room is an extremely pleasant place to take coffee or a drink, as the views here are just sensational and you can see down to the Loch and back inland, towards The Cuillin.
Many guests choose to take dinner at the hotel, which is part of its appeal. Head Chef, Marcello Tully has gained a Michelin star at Kinloch, and dinner here is fine dining as you expect. The combinations of ingredients can be unusual, but they work. This is rich, indulgent food, showcasing many culinary tricks. In fact, if you are curious to learn more about what goes on behind the scenes, you can spend the morning in the kitchen with Marcello, and help him prepare the lunch menu for the day, which we did and found fascinating.
Dinner at Kinloch is a formal affair, and many guests visit as part of a celebration; so do take the opportunity to dress up for the evening. Dinner is a slow-paced, allowing plenty of time between courses. I recommend booking for 7 for 7:30, allowing you time for drinks and canapés in the drawing room, and then take coffee in the drawing room afterwards. You'll probably finish around 10:30-11pm.
The wine list is excellent, and we really enjoyed all the wines we tried. The house sparking wine is also very good, with which guests are greeted on arrival.
Food allergies are catered for very well, although we did have to keep reminding staff, as we did receive a number of items in error.
Breakfast is very nice at Kinloch. There are around 7 or 8 choices from the menu, with everything cooked to order. Choices include porridge, poached fruit, eggs and fish, as well as a cooked breakfast, instead of a cold buffet with pastries and fresh fruit which so many hotels offer. We really enjoyed the porridge, poached fruit with crème fraîche and eggs.
Kinloch Lodge is a lovely country retreat on Skye. You sense the heritage of the Macdonald family in every part of the hotel. In good weather, you are able to appreciate the stunning location and in bad, it provides a warm and cosy retreat from the elements. It is most unique as a hotel, as you really feel as though you're staying in someone else's home. It is quite different to any luxury hotel I've ever stayed in in this respect, and really does make a stay a memorable experience.
Where to eat
Our first dinner of the evening was at the Scorrybreac restaurant in Portree. Open only for the summer months, it is an exceptionally good restaurant. Chef Calum Munro is originally from Skye, and has cooked all over the world. Over a drink with friends from home in the Far East, they decided to collaborate and start a pop up from home, back in Skye. The venture was hugely successful and it lead to the opening of the Scorrybreac in a small building overlooking Portree Harbour. A visit is an absolute must, so be sure to book ahead.
This is a small restaurant with just 20 covers, and you will find people queueing onto the street hoping to get a table. One inside, the gorgeous sitting room-turned-dining room is a wonderful place to while away an evening. The welcome could not have been warmer from Heather and the food was absolutely gorgeous. This is an incredibly impressive operation, with Calum cooking singlehandedly, which is quite an achievement. The vast majority of ingredients on the menu here are sources from Skye, which makes the menu seem even more of a bargain price at around £30 a head for 3 courses. One aspect of the meal I that stayed with me is just how much other guests were enjoying themselves. Guests on every other table were savouring every mouthful, just as we were, and that was a real pleasure to see. Scorrybreac is also opening for lunch on some days of the week over the summer, so book now, whilst you can.
We also had a superb pub meal at The Old Inn in Carbost which is just a minute or two away from the Talisker Distillery. It was raining when we visited and this pub made for the most cosy and friendly shelter from the weather outside. Trade was brisk with a mixture of tourists and locals visiting. Local fish is on the menu, and we loved the Skye langoustines, delicious chips and the baked camembert. The service is super friendly and helpful and there is a good choice of drinks available. We really liked the Scottish Thistly Cross cider we tried. This is good, simple pub food done very well, made with great, local ingredients and it is a very popular destination for a good reason.
What to do
Skye is a dream for lovers of the great outdoors with 20 Munros, making the island a favourite with hillwalkers keen to tackle the heights of its Cuillin mountain range. The Black Cuillin is famous for its dramatic jagged ridge and the Inaccessible Pinnacle, a 150 ft rock making Sgurr Dearg the only Munro in Scotland with a summit that can only be reached by rock climbing.
Aside from the Munros, Skye has many other interesting geological features to see, such as the unique landslip formation, the Quiraing, the dramatic sea cliff of Kilt Rock on the rocky coastline of Trotternish, and strange rock pinnacles like the Old Man of Storr. The Faerie Pools of Glenbrittle are fast becoming a popular place for a swim thanks to its beautiful clear waters and spectacular surrounding scenery.
The best activity we undertook on our visit was AquaXplore, a boat tour run by Bella Jane from Elgol. There are a number of tours on offer, and we had planned to head out to Canna Island to see the puffins, eagles, and if we were lucky, a dolphin or a whale. Sadly, the weather was unseasonably poor during our visit, so we couldn't get out, but we were kept well-informed by David, who runs the company, and telephoned us every day to update us on the weather and who could not have been more helpful.
Eventually, the weather eased off, and we were able to take a boat tour around Loch Coruisk which was a totally magical experience. The sea was choppy, and the weather was pretty bad, but we sailed out to the Loch Coruisk inlet, in the heart of the Cuillin, where we saw scores of seals, who were due to give birth any day. The crew were outstandingly good and made the experience absolutely brilliant. They were so knowledgeable and passionate about Skye, it made the experience enormously informative and enjoyable. There is the option to disembark at the Loch and walk into the Cuillin, but we declined, in favour of a wee dram of Talisker 10 Year Old to set us up for the journey home. A superb experience, and what must be an essential part of any visit to Skye.
If you are unlucky with the weather, and you have a wet day on your hands, then a visit to the Talisker Distillery Visitor Centre is a brilliant way to spend a half day. The Visitor Centre is absolutely superb and a visit is extremely informative experience. Talisker is the only distillery on the Isle of Skye, set on the shores of Loch Harport with dramatic views of the Cuillin. This alluring, sweet, full-bodied single malt is really lovely and a very accessible for non-habitual whisky drinkers to try.
Skye really is one of the most magical destinations you could possibly visit, and is an absolute haven for foodies. I can't recommend a visit enough.
Getting there
Skye is actually quite easy to get to, for an Inner Hebredean Island. It is connected to the mainland by a short road bridge at Kyle of Lochalsh on the A87.
There is also a foot and car ferry that takes you from Mullaig on the mainland (near the Glenfinnian viaduct, seen in the Harry Potter films) to Armadale on Sleat that runs around five or six times a day. The nearest airport is Inverness, and there are regular flights to Inverness from UK regional airports. From there, it's around 3 hours to Skye. Drive past Loch Ness and stop off at Urquhart Castle en route.
We flew with FlyBe from Southampton, changing at Manchester, and hired a car from Arnold Clark in Inverness. Note that Arnold Clark are based in Inverness, so you need to call ahead to arrange a shuttle from the airport to their offices to collect the car, which takes around 15-20 minutes.
Thank you so much to Visit Scotland for organising this superb itinerary for me. For more information on holidaying in Scotland, please see here.
Taste Our Best – Taste Our Best is VisitScotland's food and drink Quality Assurance scheme, designed to encourage more food service businesses to use and promote Scottish produce to give consumers choice. Taste Our Best makes it easier for visitors to find places where they can be sure of a truly Scottish quality eating experience. The award is made to hotels, guest houses, B&Bs, visitor attractions, restaurants, cafes and takeaways that meet both the quality and Scottish produce criteria.