This is a recipe I picked up on my visit to Ras Al Khaimah. Dates are a national staple of the UAE, and the quality of the dates grown here are just sensational. Visit the markets, and you can find fresh yellow dates for sale, visit the supermarket and you'll find cheap dates and date syrup available, and visit the high-end boutiques for finger-sized dates, stuffed with whole nuts, enrobed in chocolate and spiced with cardamom. In fact, there's even a date souk in Abu Dhabi you can visit.
I always return with plenty of dates in my suitcase, as well as a couple of bottles of date syrup to tide me over until my next visit. Although both are available in the UK, there's nothing quite like UAE dates, to me.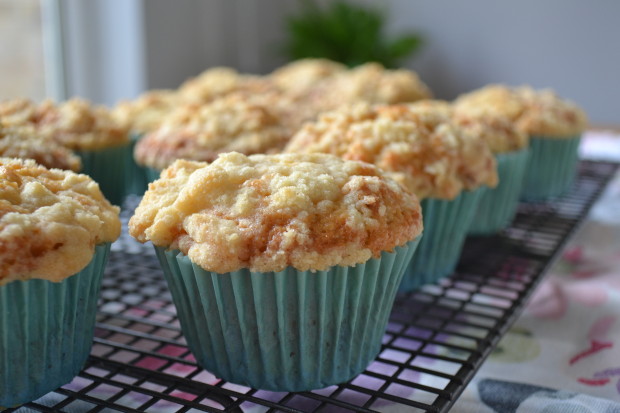 Although date muffins are not necessarily the typical cuisine one might imagine found in the Middle East, that's where the idea came from. I've adjusted the recipe quite radically, as I didn't find the originally worked frightfully well. These muffins are easy to make, and rely on storecupboard ingredients, so they're a good one to rustle up when the cupboard is bare. The quality of dates here is crucial – do be sure to choose good, fudgy dates, not the dry cubes so often sold for use in baking.
These are excellent served with good, strong coffee.
Date Crumble Muffins
2015-10-28 19:33:46
Serves 12
Nutrition Facts
Amount Per Serving
* Percent Daily Values are based on a 2,000 calorie diet. Your Daily Values may be higher or lower depending on your calorie needs.
Ingredients
For the crumble
75g plain flour
75g caster sugar
75g cold, salted butter
For the muffins
200ml whole milk
Juice of 1 lemon
450g self raising flour
Pinch sea salt
200g caster sugar
150g good quality dates, stone removed and cut in half, lenghthways
120ml sunflower oil
30g date syrup
2 large eggs, beaten
Instructions
Preheat the oven to 180C or Gas Mark 4. Set out cake cases in a muffin tin and place to one side. This mixture makes around a dozen muffins using tulip cases, or up to 16 using traditional muffin cases.
First, make the crumble topping. Place all the ingredients into a bowl and rub together to form a rough breadcrumb-like mixture. Set aside.
Start the muffin batter by placing the milk into a jug and adding the lemon juice. Stir gently and set aside. The lemon juice will sour the milk.
Next, place the flour, salt and sugar into a bowl and stir well. Add the dates and stir again.
Whisk the oil, date syrup and eggs together and pour into the dry mixture, followed immediately by the milk. Gently stir the mixture, working quickly, to incorporate all the dry ingredients into the wet.
Spoon the mixture into the cases, filling them to about ¾ full. Top with a generous sprinkling of the crumble mixture.
Transfer to the oven and bake for 20-25 minutes until browned and risen. Enjoy warm or transfer to a wire rack to cool fully. These muffins will keep for up to 3 days, stored in a sealed container. They also freeze well.
Charlotte Pike http://www.charlottepike.co.uk/